"Maus is in the house!"
November 19, 2007
For the erudite comic book nerd, it was a spectacular opening ten minutes of the Simpsons last night.

Finally, the oft-delayed "Husbands and Knives" episode wherein a new comic book store, Coolsville Comics & Toys, opens across the street from The Android's Dungeon - forcing CBG to close shop (and Marge uses the space to open a Curves-type gym, Homer gets stomach stapled, etc etc - the episode takes a much expected turn for the average after the first third or so). Guest starred such funny book luminaries as Alan Moore, Art Spiegelman, and Daniel Clowes.

The high point comes when Milhouse approaches Moore to have him sign his Watchmen Babies in V for Vacation DVD (and asks which is Moore's favorite baby). Watchmen Babies. Genius.

Also dug the CGB's "For Rent" homage of Amazing Spiderman #50, Daniel Clowes professing to Lisa his desire to draw Batman comics, and the whole League of Extraordinary Freelancers thing.

There's a quick interview with Moore about the show over here.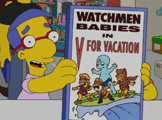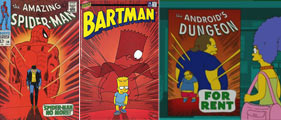 UPDATE: Matt Selman, who wrote the episode, talks a bit about it over at his Nerd World Time-blog.com.