Winter is Coming
June 6, 2012
Shop.HBO is selling a life-sized "Throne of Iron" from their Game of Thrones series at a very reasonable $30,000.00.

"This custom chair is designed to mimic the seat of kings in the Seven Kingdoms. On the show, the Iron Throne was constructed by Aegon I Targaryen, the first king of the Seven Kingdoms. He made it from the swords surrendered by his enemies. Legend has it, it's made of a thousand swords that took 59 days to hammer out into a throne."

Sadly, HBO went with fiber-glass and resin rather than the melted blades of vanquished enemies. Still impressive. I went ahead and ordered one for the office here at work. Put it down as "ergonomic chair" on the expense report so as to forestall any suspicion the suits in Finance may have.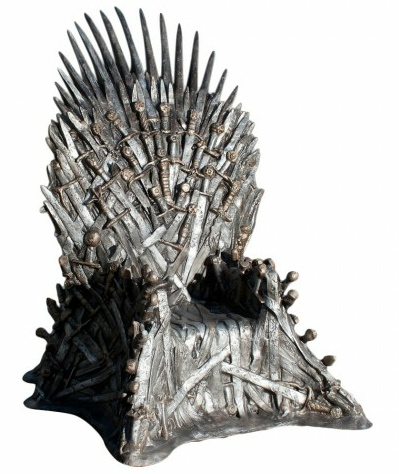 A buddy of mine saw this, the price tag, the fiber-glass, and concluded he would not pay 30k - even if it were made of real swords. That is a fiscally responsible response. Now, if the swords were actually from my fallen enemies, the price tag might be justified. However, there are two show-stopping issues:

1. I do not believe even a single one of my enemies owns a sword.

2. Even if they did, I have not yet acquired enough enemies to forge an iron ottoman, much less an entire chair.